Fly Fishing WV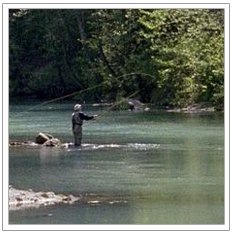 West Virginia is one of the most scenic spots in the US and its beauty lures many people outdoors to enjoy an abundance of outdoor activities. Fly fishing tops the list of favorite outdoor activities for many West Virginians and tourists alike but it's important to know the laws governing the sport before casting that first fly over the water.
Before fly fishing WV waters, make sure to pack a current fishing license and make sure it's appropriate for the type fishing intended. A generic fishing license allows the licensee to fish for all fish but a trout fishing license limits the holder to just trout. License fees vary, with the all-inclusive fishing license costing about double that of a trout fishing license.
Lifetime licenses are available to WV residents but seasonal licenses are available, too. A resident can purchase a combination hunting, trapping, and fishing license also called a sportsman license. Seasonal licenses in sportsman and fishing categories are available as well as lifetime licenses. Seasonal licenses are limited to a designated time of year and must be renewed each season.
Both residential fishing and sportsman licenses are available to teens age 15 through 17 (called the junior class) at a lesser cost than that for adults but junior licenses must be upgraded to adult licenses when the child becomes of age. Adults 65 and older do not need a license to fish in WV; this age policy applies to residents and nonresidents alike.
Nonresidents between the ages of 15 and 64 who want to go fly fishing WV style must also obtain the proper license. These licenses allow for limited time at the sport and can be renewed as needed but lifetime licenses are not available to nonresidents. Students from outside the state are considered WV residents as long as they are attending a college or university within the state on a full-time basis.
All WV sporting licenses can be gotten at the county clerk's office throughout the state as well as at 350 retail locations where agent arrangements have been made with the state. The WV Division Of Natural Resources (DNR) issues licenses in person, by mail, or via the internet. A small fee (currently $1 to $3) may be assessed along with the license fee; this fee varies according to where the license is issued.
Anglers holding a WV fishing or trout license can fish legally from either bank of the Ohio River as Ohio enjoys a reciprocal licensing arrangement with the state of West Virginia. A similar reciprocity agreement holds true for fishing both the Maryland and WV sides of the Potomac River. An important part of these reciprocal fishing agreements is that all laws from both sides must be upheld at all times, regardless of which side of the river one is fishing at the moment.
Licenses are not required for fishing in WV if the fisherman is younger than 15 or is 65 or older, is a WV resident who is blind or developmentally disabled, or is the resident of a state-run healthcare institution. Landowners and their families or tenants can fish the waters of their privately owned land without a license as long as all other fishing laws are observed.
West Virginia residents serving active duty in the military, including those on leave, can enjoy WV fly fishing without a license but should carry their military orders with them when fishing. All WV residents who have been honorably discharged from the military but who receive benefits for service-related disabilities can freely fish WV waters without a license, too.